Recruiting Successfully Across Borders – Customer Case with Teldust A/S
Finding the right specialist for a new position is a challenge in most industries these days.
Demand is high and many companies must settle or even give up when it comes to filling an open position that requires specific skills or experience.
The challenge can be double for international companies who must recruit across borders and find suitable candidates for their offices in other countries. The job markets differ greatly, and cultural understanding is key when it comes to long-term employment.
This was just the case for Teldust A/S. Teldust is a leading provider of dust collectors and solutions in several industries. Their headquarters are in Denmark, but they needed an account manager located in Poland.
To find the right candidate, they turned to SAM International for help.
Effectiveness through collaboration
"At first, I was skeptical when SAM International said they could find the right candidate within three months." So says Elena Brasen, Head of Sales and Marketing at Teldust A/S who was on the customer side of the recruitment process.
"We had used another recruitment agency for a different position in Denmark, and after months of searching, we had to close down the position without hiring anyone. We contacted SAM International in Denmark and then started the process in August last year. Roughly three months later, we signed contracts with the perfect candidate in Poland. I was thrilled!"
The recruitment process was a joint effort between the SAM consultants Ewa Thomas-Wojdat in Poland and Thomas Herbert Kokholm in Denmark.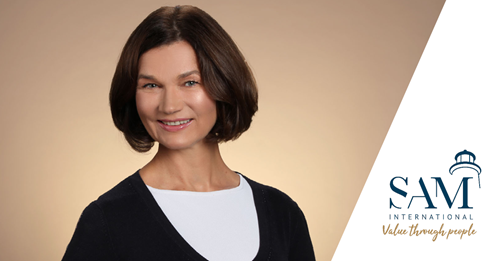 Ewa agrees the recruitment process for Teldust A/S was very successful. She explains why:
"Thomas and I had excellent collaboration on this assignment. We had a shared vision of the candidate needed to meet Teldust's wishes. We understood the company and the skills they were looking for. We both spent substantial amount of time of profiling the ideal candidate and communicating with Teldust. I was responsible for the research while the whole process was smoothly managed by Thomas."
Cross-border recruitments in SAM International always have two consultants involved - one from each country. Four eyes are better than two when recruiting, but it is especially in the close collaboration between the consultants, the payoff is emphasized for the customer.
In this case, Ewa and Thomas were communicating internally multiple times a week. It drove the recruitment process forward until they were able to jointly present to Elena and her coworkers at Teldust.
Local presence and solid communication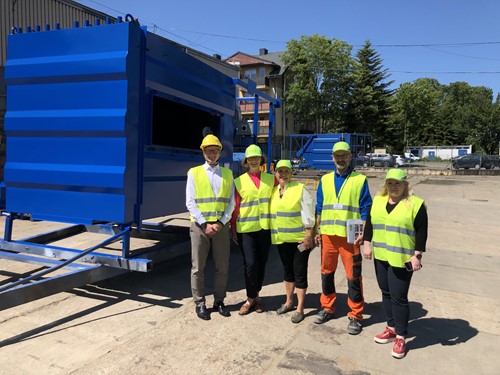 The vacant position of account manager was a specialist role, requiring both international exposure and specific industry experience.
Elena Brasen has no doubt that SAM's local presence in Poland helped in the recruitment process:
"Without the presence in Poland, I don't think we would have been successful", says Elena. "Ewa used her local knowledge and personal network. Thomas and Ewa presented excellent profiles, and we had a strong field of candidates for the position."
Ewa Thomas-Wojdat and Thomas Herbert Kokholm had both screened the candidates before presenting the shortlist to Teldust.
Consultants at SAM International recruit using the same approach no matter which country they operate from. This provides a streamlined process which has been improved over almost 30 years of recruiting.
The entire recruitment process consisted of pre-screening, three rounds of interviews and a case. When recruiting internationally, SAM consultants add an extra interview before presenting to the customer to assure the candidates' skills and personal motivation will fit the position.
"I could sense that Ewa and Thomas worked hard to secure the proper candidates. They were dedicated and very effective" says Elena Brasen of Teldust. "Every week I got updates on the progress and could see that things were steadily moving forward. The communication was excellent, and I felt we were on the right track so I could focus on my tasks while Ewa and Thomas did what they were best at".
A win-win-win recruitment process
Successful recruitment, however, is more than the recruitment agency "just" making the client happy. The chosen candidate must be equally excited for his or her new employer.
Every consultant at SAM International know this when working in any recruitment process and Elena Brasen felt that as well:
"It was clear to me that they also wanted to give a good experience to the candidates. They provided them with feedback after interviews as they did with us. It really was a sense of quality all the way through, and I would recommend SAM International for future recruiting. Ewa and Thomas did an excellent job and delivered what was promised!"
In SAM International's recruitment process, it is standard practice to follow up with both customer and candidate some months after the first working day.
"We followed up as we always do and could confirm that Teldust A/S and the candidate were both still very happy", Ewa Thomas-Wojdat ends with a smile. "That's what we aim for when recruiting. It really must be a win-win-win: If it is a win for both the customer and for the candidate then it is also a win for SAM."
With experienced recruiters and local offices in more than 10 European countries, we can provide international recruitment across all industries. Contact us at any time if you want to succeed with your next recruitment.